Description
The Most Explosive Pre-Workout Ever!
Limitless combines all the benefits of a highly stimulatory pre workout but without jitters or that nasty crash we are all too familiar with.
Unsatisfied with the numerous "micro-dosing" preworkouts we have seen in recent years, yielding high stim jittery energy while lacking sufficient dosing of key ingredients to provide a mind blowing pump; we said "enough is enough".
Combining our unique stimulatory Nootropic Blend with a solid 4g of L-Citrulline Malate and 1g of Agmatine Sulfate; Limitless leaves you with not just an enhanced mind-muscle connection for ultimate muscle contraction; but skin splitting, nutrition delivering, mind blowing pumps on top of it all!
A true Performance Enhancing Pre Workout… A feel that cannot be compared.
PERFORMANCE ENHANCING PRE-WORKOUT
BRAND NEW NOVEL STIMULANT
4g CITRULLINE MALATE
1g AGMATINE SULFATE
INNOVATIVE NOOTROPIC COMBO
UNYIELDING ENERGY & FOCUS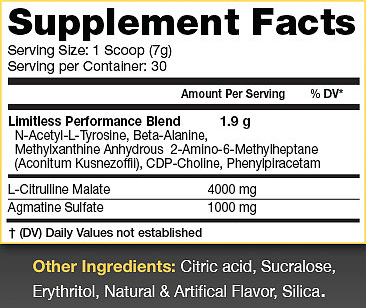 Directions
As a dietary supplement, drink 1 scoop mixed with 8-10 oz of water 15-30 minutes before training. Users may begin using 1/2-3/4 scoop to asses tolerance.
Note: Manufacturers continually change product specifications. While we try our best to keep product descriptions up to date, they do not necessarily reflect the latest information available from the manufacturer. We are not responsible for incorrect or outdated product descriptions and/or images.
FDA: These statements have not been evaluated by the Food and Drug Administration. This product is not intended to diagnose, treat, cure, or prevent any disease.